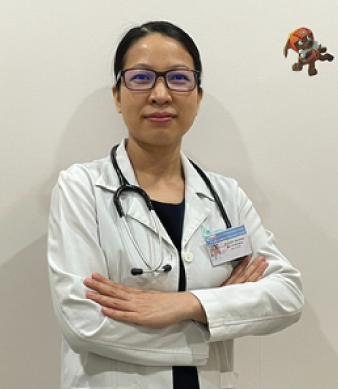 DINH, NGUYEN THI
Specialize

Pediatrics

Foreign language

English, Vietnamese
Certificate
MD degree from Thai Binh Medical University 2001 – 2007.
"General Abdominal Ultrasound" certificate at Cho Ray Hospital in 2011.
Pediatric specialization at Hanoi Medical University in 2012.
Master's degree in medicine from Hanoi Medical University 2016 – 2018.
"Vaccination Safety" certificate at the Pasteur Institute in Ho Chi Minh City in 2020.
"Autism Intervention using Auditory-Verbal Therapy" certificate at Ho Chi Minh City University of Medicine and Pharmacy in 2020.
Experience
Pediatrician of Newborn and Neonatal Care Department Dong Nai Children's Hospital 2007 – 2011.
Practice at Hanoi Medical University 2011 – 2012.
Deputy head of the Pediatric Department at Dong Da hospital (Ha Noi) 2012 – 2016.
Practice at Hanoi Medical University 2016 – 2018.
Pediatrician Vinmec Times City International Hospital (Ha Noi) 2018 – 2020.
Pediatrician at Victoria Healthcare Clinics 2021 – now.